Designer Diamond Stud Earrings
Elegant, irresistible and one of a kind, diamonds are a remarkable statement of beauty. Certain diamond earring designs have withstood the test of time and a classic pair of diamond stud earrings are truly timeless. Perfect for any occasion and any outfit– whether for everyday wear or a sparkling touch of icy brilliance for your evening look, diamond studs are a staple item that every woman should have in her jewelry wardrobe.
At Anjolee, we have taken inspiration from the classic solitaire design and created a stunning collection of earrings so that you can find the perfect pair to express your personal style. Whether you prefer a more traditional look, a modern look, or something in between, check out 5 of our top selling designs and choose your "must have" diamonds stud earrings!
Royal Four Prong Round Diamond Studs
These beautiful diamonds studs have the classic styling of the timeless diamond earring but at closer look, you will see an elegant tulip shaped setting that embraces the brilliant round diamonds. Diamonds continue along the four prongs that hold each larger stone. Choose yours today from two carat sizes in a gold or platinum setting. Delight and enchant with the royal blooms shining from these one of a kind earrings.
Surrounded By Diamonds Designer Stud Earrings
An endless circle of brilliance will light up your look with these spectacular diamond studs, which showcase a shimmering center diamond encircled by a double halo of prong-set diamonds. Available in a wide range of carat weights in your choice of gold or platinum, these stunners will make you the center of attention!
Princess Cut Diamond Stud Earrings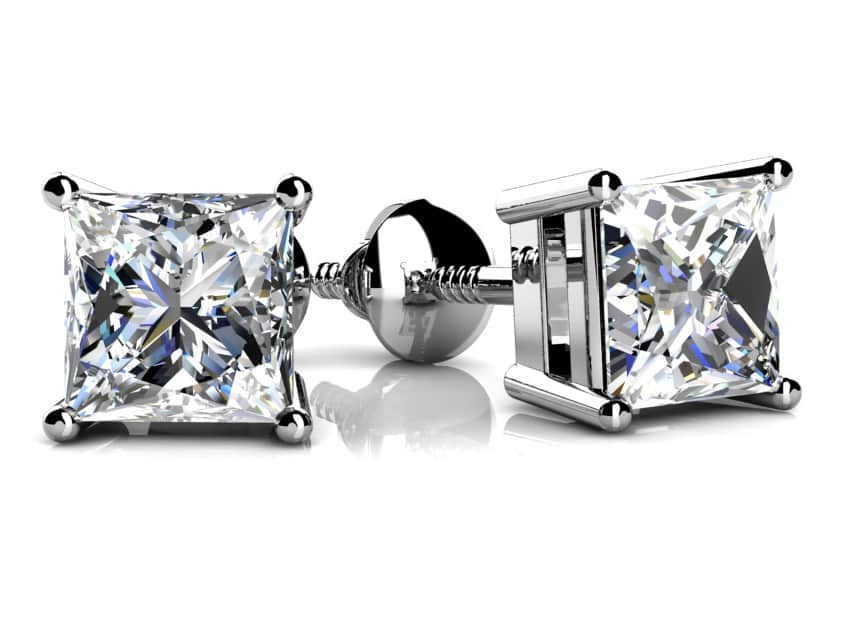 Distinct and modern, these beautiful princess cut diamond studs are an updated approach to the classic round solitaire studs. Safely secured with a robust screw back closure and available in a large selection of carat weights, you are sure to find the right pair to define your look!
Flower Shaped Diamond Cluster Stud Earrings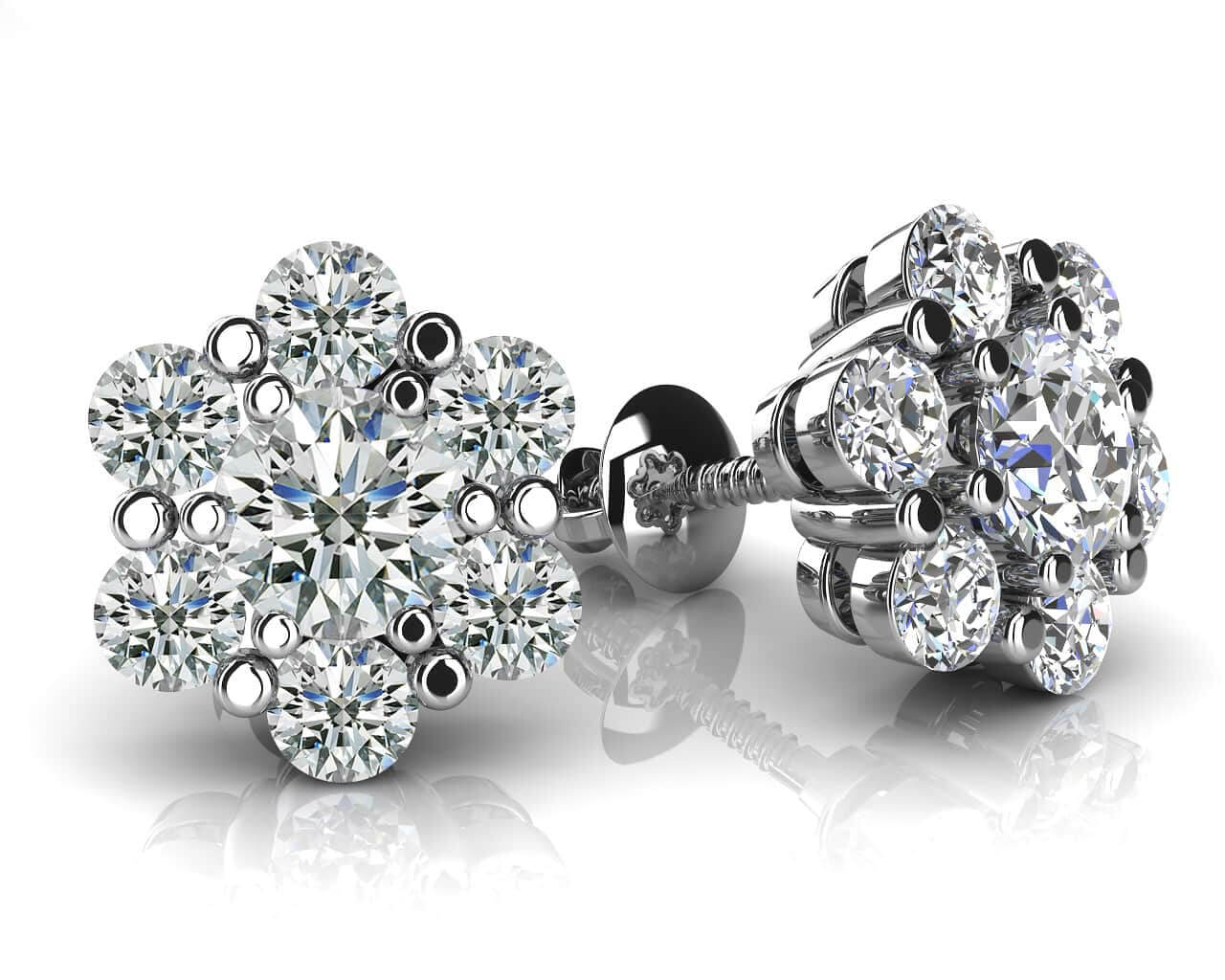 These magical blossoms have a sweetly distinct look that she is sure to love! The brilliant center diamond is surrounded by a sparkling halo of round diamonds for a charming flower shape. Choose your pair from either platinum or gold in three different carat sizes for an elegant and feminine statement of beauty.
Finishing Touch Diamond Emerald Cut Halo Stud Earrings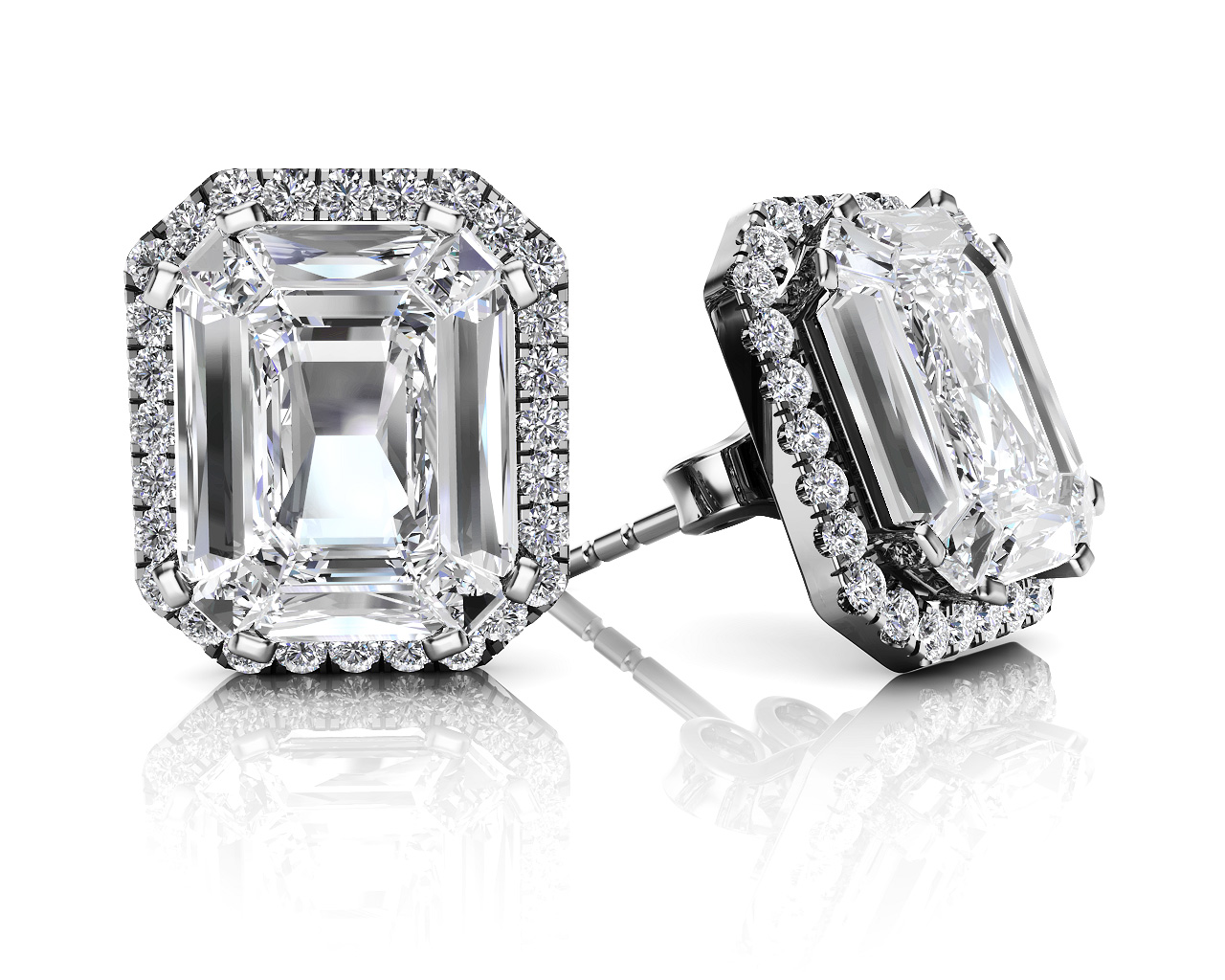 For a luxurious statement with that extra "wow factor" choose these exquisite earrings! Emerald cut diamonds are surrounded by brilliant round diamonds for an elegant look that will lighten the room. Choose from a selection of diamond carat weights in your choice of gold or platinum setting. These earrings will be the finishing touch on your look.
Romanced By Diamonds Stud Earrings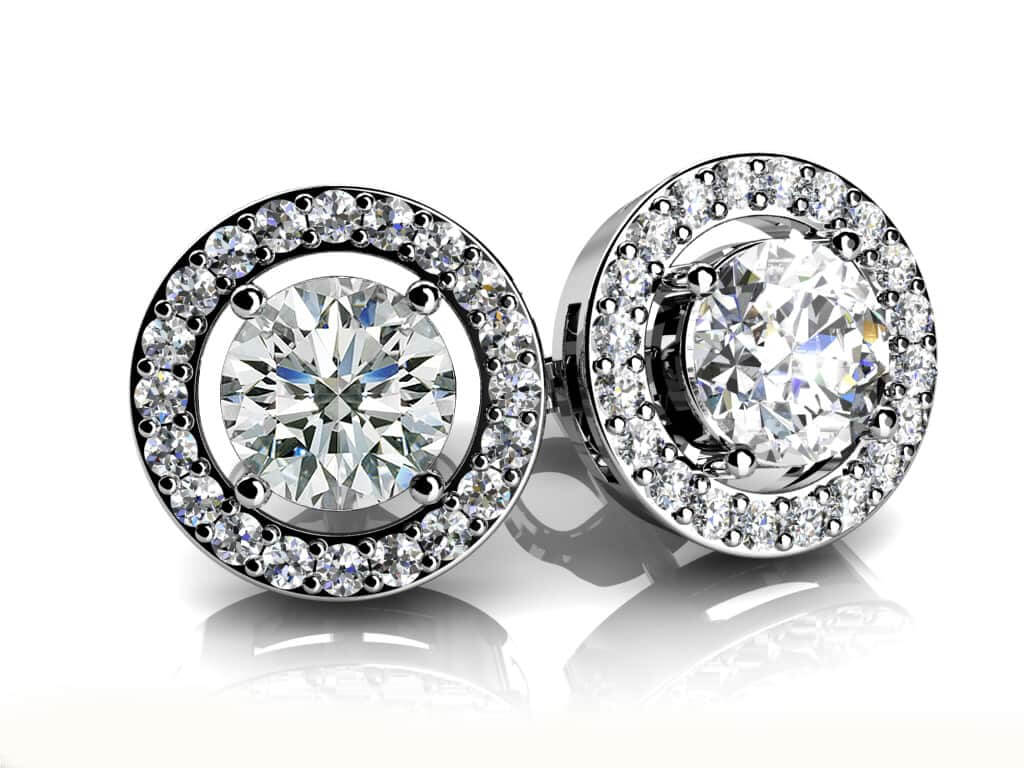 Create a romantic glow with these beautiful earrings! Brilliant round diamonds are encircled by a perfect halo of prong set diamonds. Available in a selection of diamond carat weights in your choice of gold or platinum setting, these earrings are an effortless statement of luxury that you can wear day or night.